Last Updated on April 24, 2023
A brand's reputation is the most valuable asset it can have. Having a positive online reputation is essential for customer loyalty and business growth. Thanks to the internet, even small businesses have the potential to reach a worldwide audience.
The growth of the internet and social media also puts companies at risk for public scrutiny. You could put years of effort into building a good reputation, only to have it fall apart over one social media post. A negative reputation can lead to tangible losses of revenue – so what can you do to mitigate reputational risk? Reputation insurance.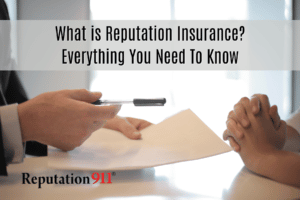 What Is Reputation Insurance?
Reputation insurance is a broad term that can include many different types of insurance policies that deal with a company's reputation. This insurance coverage covers costs that arise from any kind of event that leads to reputation damage.
Causes Of Reputation Damage
Managing reputational risks starts with identifying reputational damage points. It is important to monitor several key areas to get an understanding of how people perceive your brand. Online reputation damage can be caused by:
Negative reviews on popular review sites such as Google, Yelp, TripAdvisor, etc.

Failure to address and amend negative reviews or comments.

A critical news article or negative blog post that someone else has written about your brand.

Negative comments or posts on social media.

Negative reviews from former employees on sites such as Glassdoor.

Data and cyber breaches.

Controversial or negative things you say online, even if it is misconstrued or taken out of context.

Any negative information that appears in online search engines, whether it is true or not.
Reputation Is Important, But Can It Be Insured?
Reputation is difficult to quantify and insure, but insurance companies are increasingly offering ways for businesses to protect themselves. Without proper reputation management strategies, companies can take a large financial hit.
Thankfully, there are a few different ways to insure your reputation.
Your Options for Reputation Insurance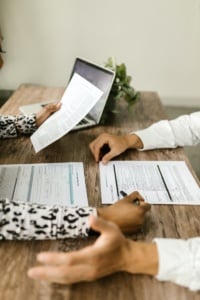 There are four main types of insurance that can help protect you from financial losses should your brand take a reputational hit.
Many small businesses will purchase a

Business Owner's Liability Insurance

policy. This

basic form of insurance

helps to cover legal fees should someone file a lawsuit against your company.

Crisis Management Insurance

utilizes public relations teams to protect your business reputation during a crisis when an

unexpected event occurs

, such as a data breach, employee misconduct, product recall, etc.

Data breaches can cause huge disruptions to an organization and can cause people to lose trust in your brand. If your company deals with any kind of

sensitive data

, then

Cyber Threat Insurance

could be worth investing in.

Reputational Risk Insurance.
Reputation Insurance vs. Reputational Risk Insurance
There is a small difference between reputation insurance and reputational risk insurance. Reputation insurance covers tangible costs associated with reputation damage, such as legal fees. This type of coverage is usually a part of a larger policy, such as the ones mentioned above.
Reputational risk insurance, however, is a standalone policy specifically designed to handle a business's reputation. It is hard to put a price on reputation, but this newer form of insurance recognizes the value reputation has. This type of policy can:
Cover costs associated with a reputation damage response.

Cover losses in profit associated with a reputation hit.

Identify threats to a brand's reputation and mitigate crises that emerge.
Standalone reputational risk policies come at much higher premiums than other types of insurance because it is so difficult to know what the cost of reputation damage can be. Reputational risk insurance would typically only be used by larger companies. Larger companies, by nature, stand to lose a lot more from reputational damage and can afford the high cost of this type of insurance.
What Else Should You Know About Reputation Insurance?
It is important to consider all of the information before committing to an insurance policy.
Which Type Of Insurance Is For My Business?
The type of insurance you choose will largely depend on the needs of your business. Most business owners will likely need business liability insurance to provide a basic yet essential safety net for their growing company.
No matter what type of business you run, a lawsuit will be filed against you at some point, so prepare for it now.
Can Small Businesses Use Reputation Insurance?
Building a positive reputation is essential for small business owners who are trying to grow their business and get their brand recognized.
Yes, small businesses can benefit from reputation insurance. However, you will likely get more basic coverage incorporated into larger policies in order for it to be cost-effective.
How Much Does Reputation Insurance Cost?
The cost of reputation insurance will vary based on the size of the company and the type of business that you do. General liability insurance is a pretty basic and affordable insurance policy. However, if you need more coverage for cyber threats and public relations teams, the cost will go up.
In Closing: Reputation Insurance for Your Brand
Your brand's online reputation is a valuable asset that deserves to be protected. Take all of this information into consideration when choosing an insurance policy for your business.
If you or your company are facing reputation damage risks, contact the experts at Reputation911. Our team of professionals is here to provide reputation management services for businesses and individuals.
We are a reputation management company that helps to make you Look Good Online.