Colleges look to the Corporate World to help Today's Student Stay on Track.
Executive student coaching is the new buzzword on campus this fall but is not to be confused with tutoring or counseling. Executive student coaches help students the same way business coaching and management training has helped executives in the corporate world.
Student coaches use worksheets and goal-setting exercises to help students manage everything from academics to athletics to career-building activities such as internships to online image building with social networks to protecting them with online reputation management tools from companies like Reputation911.
"Most colleges expect students to be disciplined and self motivated but in the social media age we now live in that is just not the case anymore," says Executive Student Coaching Founder Alex Angarita, who financed his entire undergraduate education at U.C. Irvine by student coaching nearly full time. Alex who also holds a Juris Doctor Degree from Harvard Law School, an M.B.A. from international business school, INSEAD, has over 10 years experience in student coaching and understands the challenges students face today. "Students are lacking the practical skills and real world experience needed to face the challenges of being on their own for the first time at college. Executive student coaching places another layer of protection for the student and someone they can trust to confided in before things go to far off track allowing them to take full advantage of the opportunity they have right in front of them."
Although there are countless SAT tutors, private guidance counselors, and other businesses aimed at helping kids get into college; there are relatively few services available for helping students once they are in college until now states Alex. Currently only 57 percent of students at four-year colleges manage to graduate within six years, according to the U.S. Department of Education.
A new independent study finds that students who received executive-style coaching were considerably more likely to stay enrolled and had higher graduation rates. The study by the National Bureau of Economic Research found that one-on-one coaching was a cost-effective strategy according to Professor Bettinger.  "And not only does coaching improve the likelihood students will remain in college, but expenditures on coaching are much smaller than the costs of other methods to encourage persistence in college."
About Executive Student Coaching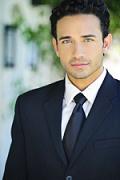 With more competition and fewer jobs and graduate school slots, college students need to gain a competitive edge if they are going to make it in today's world. College tuition keeps going up in the tens of thousands of dollars and for this reason alone it is vital that students make the most of their opportunities and why Alex Angarita Founded Executive Student Coaching.  Alex who came close to becoming sole survivor, being eliminated 33 days into the 39-day competition on Survivor Fiji, now helps students apply the same skills he has learned to not just survive but to thrive in college and beyond!  Students of Alex's have adapted to a learning environment that is radically different from high school or work and have learned the skills, which are not usually taught in school to succeed inside and outside the classroom.
We are a reputation management company that helps to make you Look Good Online.