In the past, when individuals wanted to advance their careers, they made themselves better employees by practicing a number of self-help techniques. Today, the best way for individuals to get ahead is by marketing themselves in a process called personal branding. This entails using internet marketing tools to shape the way that others view you. When personal branding is practiced effectively, a man who wants to run for public office might brand himself as a devoted family man while a woman who is looking to change careers might brand herself as an expert within her field.
Personal branding is important because most hiring managers research potential candidates by searching for them on Google.  Yet it is not just jobseekers who benefit from personal branding. Jobs have been lost, relationships have been ruined, and families have fought because of information that was turned up in a simple Google search. The process of online reputation management goes hand-in-hand with personal branding. Here are a few personal reputation management techniques that can be used for personal branding:
Start blogging
Blogs are a great way to build your own brand because on a personal blog, you control the conversation. A well-written blog will rank highly in Google search results for your name, and will even attract new visitors who have never met you in person. To gain the maximum benefit from a blog, it is best to focus on a specific topic like the field in which you work or a hobby that you enjoy. A blog that focuses on an individual's random thoughts tells readers more about the individual's personality, but a blog about a specific topic establishes the individual as an expert in that particular field. When an organization is looking to hire someone for a particular position, an informative blog with genuine followers is far more attractive than a resume.
Be social
As mentioned above, a blog might not be the best place to share scattered thoughts and personal views. However, social media channels are a great place to do so. Potential dating partners want to know more about the individual's interests and even hiring managers want to see that a job seekers is a good fit for the company culture. Rather than allowing photos that Facebook friends tag you in, or tweets that others mention you in define your brand, use social media accounts to take control of how you are perceived online. You should even consider creating splitting your accounts to separate the personal and professional contacts (a good rule is to use Facebook for personal and LinkedIn for professional). A personal account can be seen only by friends (by manipulating Facebook's privacy settings) while a professional account can be used to share messages that are used for personal branding.
Clean up the first page of Google
Once social media accounts and blogs have been used to build a new personal brand, you must make sure that this brand is visible to others. The best way to do so is by making sure that you clean up your online profiles so everything on your first page of Google search results helps with your personal branding efforts. Damaging content will hijack your personal brand and cause you to lose credibility. The only way to deal with damaging content is by removing or suppressing it from the first page of Google. Reputation911 helps individuals remove and suppress content that damages your personal branding by using proven online reputation management techniques. Find out how to remove negative content by filling out the form on the right side of this page, or by calling 1-866-MY-REP-911 for a free consultation.
About us
We are a Online Reputation and Privacy Management Company that helps our clients Restore, Promote, and Protect their online image.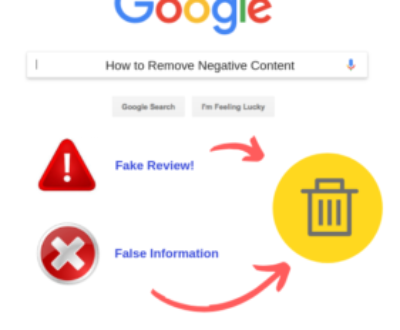 Whether you are a business, brand, or individual, it is essential to…