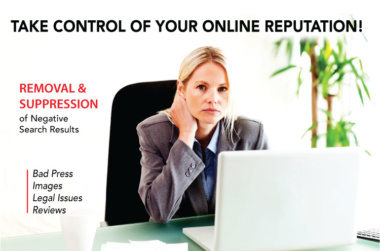 Restore Your Online Reputation
Promote Your Online Presence
Suppress Negative Results
Online Reputation Management
Online reputation management refers to the practice of monitoring how you're viewed on the internet. Your online reputation can be shaped by anything; from content you post on social media networks to reviews and discussions posted by others. Online reputation management professionals not only monitor what is being said about their clients, but also shape their clients' images in order accurately portray their clients online.
Who needs online reputation management?
In today's world where everyone is constantly being searched by colleges, prospective employers, or prospective significant others, everyone needs to take control of their online Students can be denied entrance to college if college admissions officers find unflattering content online about them (even if that information is not true!). Job seekers will be passed over for interviews or in the final selection phase if prospective employers form a negative opinion of them based on their online presence (once again, even if the information is not true!). Even working professionals will suffer if search engine results create a bad reputation for them; salespeople might lose clients or have trouble gaining meetings, and freelance/contract workers might lose work opportunities if their old work appears ahead of an up-to-date portfolio in search results.Companies also need online reputation management for business, as research has shown that 90% of customers find online reviews to be a trustworthy source, and 80% have admitted to changing their mind about buying a particular product or service based on negative information found online. In this case, online reputation is directly tied to revenue and negative content will cause potential customers to migrate to your competitors. If your business is hemorrhaging customers due to an increase in negative reviews, reach out to us immediately to stop the bleeding with our My Business Reputation™ management services.
How does online reputation management work?
When an individual discovers false, misleading, or embarrassing content on the internet about themselves, or a business finds an unusually large amount of negative reviews about themselves, they will use a wide range of techniques to counteract the damaging content. These techniques can include, but are not limited to:
Building a greater online presence: Certain social media and listing sites can increase the traffic to your website while also letting you control your search results. Our online reputation management experts will promote yourself or your business while regaining control of your message online.
Optimizing existing websites: Whether it is an existing website or social media profile that doesn't give help you get found online, our online reputation management experts will optimize websites and social media accounts to take control of your search results so you become an expert in your field, or the go-to company for any industry.
Privacy: In instances when libelous content can be proven false, or if confidential information is leaked, our internet privacy experts will get that information removed offline, or have the libelous information suppressed so no customers or potential employees, significant others, or universities will ever find it. Our Investigative Team will examine all online content and identify and remove fake or spam comments or posts written by competitors, old employees, or jealous parties.
Respond directly to negative content: If a business finds that customers are saying bad things about them right on their Facebook page, or an individual finds that bad things are being said about them in an online forum, responding directly will often be a good strategy to counteract the claim. A complaint from an anonymous source holds less weight if it appears alongside a response from the person or company mentioned. Our online   management experts will craft responses to these negative comments, as well as work with the commenters to turn a negative into a positive review.
Closely monitor online reviews and personal search results: Once content is removed or suppressed, there is no guarantee that another problem will not arise in the future. Closely monitoring your online reputation will allow you to act quickly whenever additional damaging content shows up in the future. The easiest way to monitor your online presence is to set up a Google alert here: http://www.google.com/alerts
These are just some of the techniques that Reputation911 will use to help restore your image. For help with online reputation management, take a look at our reputation management blog, or contact us for more information using the form on the right side of this page. You can also call 1-866-MY-REP-911 for a free consultation.
Contact Reputation911
1-866-MY-REP-911
Please Fill the Form Below for More Information:
Contact us today to gain control over your personal or business search results.
"This is an awesome update! I wasn't expecting it to be pushed back "the negative articles" to the second page this quickly. THANK YOU!!!!! :)))))"

Confidential Client
Model
"Reputation911 did a great job removing the reviews on Vitals within the 1st week and then continued to monitor and track our online reputation to ensure no further attacks were being made against us."

"I am very thankful too Reputation911 for helping me regain control over my online reputation and look forward to working with them in the future to keep both my reputation and privacy protected."

Confidential Individual Client Testimonial
Judge