Last Updated on August 7, 2023
Why Startups Need to Pay Attention to Their Brand's Reputation
Brand awareness is arguably the most important factor when it comes to startup businesses. Putting yourself on the map as a new business comes down to getting your business's product or services in front of the right audience. Your business plans only work if you're making money, and in order to drive sales you need your business to be seen and heard. 
Business reputation management is an important practice for great brands, whether big or small. For businesses just getting started in the game, startup founders need to keep their brand's integrity, trustworthiness, and likability in mind in order to impress and convert a brand new audience.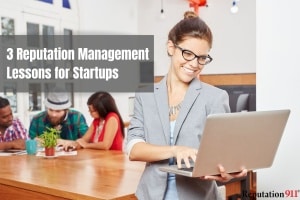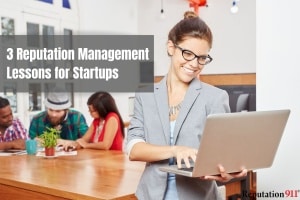 How to Generate More Sales Without Spending More Money
Increasing the likability and trust in your brand helps convert sales without even needing to pitch your products and services. Why? A positive brand reputation does all the speaking for you, but how do you get there?  
Regularly managing the reputation of your brand and taking care to keep your business name in a positive light will be your key to success. This comes from improving efforts in customer service, networking, and customer experience.
By engaging with your audience on a regular basis, you naturally improve the reputation of your brand just by showing up for those who support your new business. Showing that appreciation will take your business to the next level.   
1. The Importance of Reputation Management for Business 
Typically buyers make a purchasing decision depending on how much they trust the company they are purchasing from. When a company is too new to have its own reputation, buyers are instead gambling on the CEO and his or her ability to deliver on promises.
Startups should make sure that CEOs and other visible leaders have a positive reputation online, by ensuring that no negative content appears when someone searches for these leaders on Google.
Companies can go one step further by building a positive reputation for organizational leaders, and promoting them as experienced, expert individuals.
Panelist Mark Rostick of Intel Capital emphasized this point, noting that all businesses that reach the venture capital stage have good reputations. He added that Intel Capital decides which company to invest in based on the people attached to that company, so the reputations of organizational leaders must be on par with the organization's reputation.
2. Everyone Notices A Good Reputation
This thought came up during a panel on seed funding as one of the experts suggested that accelerators and venture capitalists are more likely to invest if someone else has already invested. In essence, many minimize risk by following the herd. Customers are the same way, and they feel that they are minimizing risks by doing business with companies that have a good reputation.
Businesses of all sizes can build brand loyalty by recruiting individuals to be brand ambassadors. Asking a former customer to write a review for your business or to like your page on Facebook will make consumers and even investors more interested in working with your business.
During a Lunch Q&A, writer Sarah Lacy of PandoDaily.com noted that "when you're the first person to write about a company, you're putting your own reputation on the line. Knowing the company has venture capital funding gives them credibility." Instead of pitching members of the press too soon and being rejected, organizational leaders can build a good reputation that the media is unable to ignore.
3. A Good Reputation is Built by Networking
Job seekers know that they need to reach out to past connections and make new connections to ease the hiring process, but entrepreneurs must also do a good job of networking so that they can build their business.
Once a business owner wants to attract a venture capitalist, he or she should use networking skills to build on a good reputation.
Panelist Rob Go of NextView Ventures explained that one of his firm's leads came in through his company's blog, and that entrepreneurs have had success gaining the firm's attention through social media. Go added, "some founders build a reputation on social media or by blogging. Socializing online starts you on second base when you meet [a venture capitalist] face-to-face."
Whether you lead a startup that has not made a single sale or an up-and-coming company that is on the verge of securing venture capital funding, it is vital that you, your team, and your company all build a positive reputation.
Reputation911 is a reputation management company that can help startups build and sustain success by removing negative content from search engine results. We have also helped clients build a positive reputation so that individuals and their companies are seen by consumers and investors as more trustworthy. Learn more about how we can build or repair the reputation of your company or your business by calling 1-866-MY-REP-911 or by filling out the form on the right side of this page.
We are a reputation management company that helps to make you Look Good Online.